The UK General Election is tomorrow, May 7th.
One of the issues in the Conservative manifesto is the pledge to hold a referendum about whether the UK stays in the European Union.
But it's barely featured in this election campaign. The London correspondent of German paper Die Welt has noticed this, but I haven't seen much else.
I went to the BBC yesterday and they were finishing a giant map of the UK in the courtyard. You can't really see the rest of the world as you're hemmed in by the walls of the courtyard…I guess we're too attached to little Britain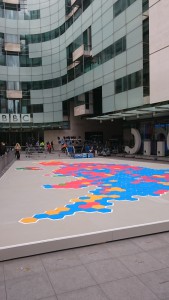 There are lots of domestic issues in this election – much the same as every election – but it's a globalised world and Britain needs to recognise the opportunities of that. Australia has the same challenges of course.
The following day, Friday May 8th is Victory in Europe  Day – the day to commemorate the coming together of Europe after the war. So the election result will be announced on that morning. I'm not talking about commemorating war, but recognising the peace, and the Europe that was constructed out of the ruins of that war.
On the evening of May 7th, BBC is showing its commemorative season about the end of the war, starting with a series by Steve Humphries of Testimony Films, called  The Greatest Generation. About the people who built the welfare state and the society we now benefit from in Britain. Some very stirring stories here, and a trailer below.
Steve's also co-written a book he gave me when I saw him a couple of weeks ago in Bristol.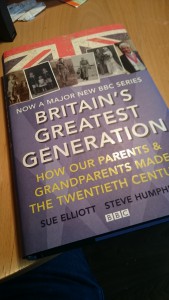 It's a good reminder of what we might just have said farewell to if we vote in the current government again, like  Ken Loach's  The Spirit of 45 documentary from 2013
Just in case you were wondering which way I'm going to vote, here's Cassettboy's party political broadcast not on behalf of the Conservative Party
Elections are where public broadcasters really have a role to play. The BBC's  audience barely remembers this Greatest Generation – BBC2 channel head Kim Shillinglaw pointed out that as the average age of BBC2 audience  is in their 50's, they grew up on punk rock. Bit of a stretch to say that all of that audience wants programmes with attitude, but I know what she's getting at.
Speaking of attitude, 'young person's channel' E4 is cleverly switching off for the day tomorrow to encourage people to go out to vote. Darren's the man in control of the switch.
https://www.youtube.com/watch?v=pahIcUi0kns
So if you're in the UK tomorrow and registered, don't spend your day trying to watch E4 – please go out and vote.
See you on the other side.