Long gap since my last post, apologies. But last week I went to the annual MIP-TV market in Cannes which gave me plenty to think (and write) about.
Four days of meetings equated a big batch of ideas – though the word product seems more appropriate in such a marketplace.
Fewer people were wandering the Palais this year – cuts are biting, and there's less face to face in the business anyway these days. The cost of attending a market like this for producers and distributors is large, and the pressure is on from day one.
With four of us from SBS all doing separate meetings, we covered a lot of companies. Telling distributors and producers what we needed,  running through their 'slates', working off this 
MIP 2015 SBS Acquisitions Needs
 brochure.
My main impressions?
You meet who you know already. There should be a 'lucky dip' function on the website to put you together with people you've never met before.
30 minutes is not long enough for most meetings, given that I usually got there late and kept getting lost in the Riviera part of the market.
There's no time to digest all the news and industry insight that floods the market – here are just a few of the magazines I picked up before leaving. In there are lots of programmes that I should be watching.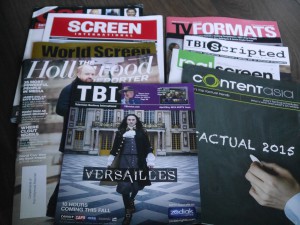 Caffe Roma, the central cafe for meetings with those who haven't registered for the market itself – serves terrible tea.
What were the Aussies up to?
The SBS stand was opposite the Screen Australia stand for the Aussie producers, who made merry at a drink on the Tuesday.
It was good to see so many producers making the long trip to Cannes. Here's a Screen Australia showreel of Australian projects brought to the market
At 22 minutes long, it's a great way to get a fix of Australian TV. Spoiler alert: Doesn't include all the terrible reality shows on Australian TV though.
And
Blown Away
 (at 2:21) – a very intriguing part-animated doc on Cyclone Tracy which happened 40 years ago. There's more about the film, shown in late December on ABC1 and co-produced by Rachel Clements,
here
The other clips on the reel:
Deadline Gallipoli (3:17)
Miss Fisher's Murder Mysteries (4:22) – which I'd love to see bought in the UK
Pitch Battle (5:38) – about the Palestinian football team
Restaurant Australia (7:22)
Sammy J and Randy in Ricketts Lane (9:37)
Status: Vacant (11:15)
Struggle Street (13:05) – coming to SBS in May
Tattoo Tales (14:57)
That Sugar Film (16:36) – a kaleidoscopic look at a key health issue.
Winter (18:47)
Heart and Soul (19:35) – this looks like a good tale of girls making music and growing up
Hipsters (22:09) – already screened on SBS2
What were the others up to?
Vice is a brilliantly focussed and sure-footed media company and its ideas demand attention. Some ideas at MIP though seem there to test us. The delegate bag was sponsored by
DogTV
(TV for dogs, in case you were wondering). The Telegraph in the UK has
written about the formats on offer
, and it's not too impressed.
Party central
MIP wouldn't be MIP without a bit of socialising, and nothing beats a beachside party at Cannes.  This one on Monday night was from distributor DRG.
If you were at MIP, let me know how you found it. At the Nordic party, I met a gentleman from Finland who reminded me that it's only 170 shopping days left till MIPCOM…