Korea has created a Digital Media City (DMC) on the outskirts of Seoul and houses nearly all its broadcasters there. Like MediaCity UK in Salford. But way bigger.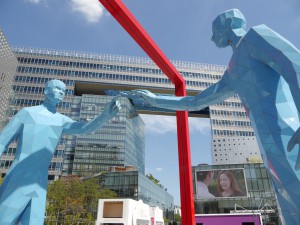 These outfits have big in-house production staff, and layers of management that would make even the BBC blush.
On Friday I went to CJ E&M, which is a huge conglomerate that runs several stations, and has a mission to '
create a new global pop culture
'. Ambitious people. I met Hwang Jin Woo, head of Formats – who I'd first met doing a talk to Korean broadcast execs three years ago, and his colleague Sun Jin Sung.
We talked about the big shows they do – Korean versions of the entertainment shows we all know – and the drama and features shows that are the staples of their channels. Hwang is in charge of developing formats, and adapting foreign ones.
He also showed me the Digital centre. This is meant to be like Maker Studios, to encourage digital creatives to experiment.  It was empty at 11am, he said that was because creatives got up late – it would be fully booked from the afternoon till into the night. There was a green screen motion capture room, and other sets to do programmes.
And this digital content is the growth area, as every Korean young and old seems to gaze at their large screen smartphones most of the time.
In the afternoon I went to see the national broadcaster KBS, meeting Kate Hyein Cho, who I'd seen at Asian Side of the Doc, and her boss Irene Kim. Their large building is right next to the national assembly – no chance of them moving away from government to go to the DMC. A pretty conventional public broadcaster, growing old with its audience. Posters around the building encouraged staff to come up with ideas for the 20-49 age group – the assumption was the their audience would be much older.
On Monday I'm seeing EBS, the Educational Broadcaster. They're also moving to the DMC in 3 years time.
Salford Media City is built on the same model as the DMC of a 'creative cluster' of broadcasters, producers and studios, and was being developed at the same time in the mid-2000s. When I saw the impressive blocks over the water at Salford Quays, I remember thinking that it had been conceived in a pre-mobile, pre-Youtube age (I mean the early 2000's, younger readers) – when progress meant big buildings full of people. Now creativity is often talked about on a smaller scale – but with bigger reach.  It's now more about multi-purpose spaces, places that make you want to hang out and have ideas with others, places that are connected.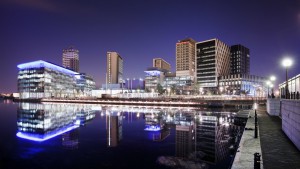 In Korea, with most production in-house, I guess the model of state subsidy for large organisations to pay expensive rents in steel and glass corporate palaces still works.  This was an urban plan all about consolidating the big state-supported production models. There is a similar state planning model for publishing –
Paju Book City
, close to the North Korean border, is the home to all of Korea's publishers.
Salford has BBC North, ITV with Coronation St, Salford University and good & busy production companies
Shine North
run by Alex Connock, and
drama producer Red.
But maybe not as many small emerging companies as they'd like (with the honourable exception of the ones based in
The Greenhouse
).
I'm not saying this is down to the producers being resistant – in the UK, with commissioning centralised in London, the third leg of the 'production company-freelancer-commissioner' stool is missing and there's no particular reason for production companies to be next to the BBC in Salford unless they make Childrens programmes.
In DMC, the huge staff bases shunted out to work in MBC, CJ E&M, SBS (the Korean not the Aussie one!) and shortly EBS meant there were plenty of people around. The shops and cafes attracted people on the weekend, unlike Salford Media City. The transport links are good and there's a proper station there (well, 10 minutes walk away) rather than a tram stop.
The problem of the DMC is that the 'software' in this model, the Korean broadcasters, don't have a commissioning structure, and have very little idea of how to work with independents. They produce in house, pay peanuts for the occasional indie documentary, and take all the rights. Unless that changes, it's hard to see how it would become a true creative cluster.
Digital Media City didn't feel much like the digital future to me, unless that future is entirely corporate. There wasn't even free public wifi that I could find. The idea that to make content all you need is a small camera, laptop editing, lots of coffee and wifi, and some likeminded young people, still seemed a long way away.