There was a packed auditorium for the main debate at Wildscreen on Wednesday. It covered themes familiar to previous festivals, but no less important for that, according to Wildscreen veterans. How television wildlife films misrepresented the world and its environmental problems. How cute and fluffy animals don't tell the whole story. How the word  'Environment' is a turn-off for commissioners. Questions from the audience came from people identifying themselves as from the ''Save the Rhino' or 'Ocean Conservation' campaigns. They were impassioned about the need to raise public awareness of habitat and species loss, including of the dreadful trade in shark fin soup which kills between 75 and 100 million sharks a year. The reality of climate change and our role in destroying our planet hung over everything.
On the panel, Channel 4 factual boss Ralph Lee presented a clip of the series Fish Fight, sitting alongside Will Anderson of producer Keo Films. The impact of Fish Fight on the policy of supermarkets, and European Union policy, including through social media is thoroughly documented and well worth a read.
But Channel 4 has had to set aside some of its campaigning work to keep its ratings up. I heard Ralph Lee say as he was leaving the venue that he'd been dining out on Fish Fight for three years. Alongside him on the panel, the BBC's Science and Nature commissioner Tom McDonald squirmed a bit when asked if as a public service broadcaster they could do something like Fish Fight. He used the familiar BBC defence 'we're not allowed to do campaigns or be political' – which seems quite weak to me. There's nothing party political that I can see about a programme dealing with the food on our plates, or how the supermarkets behave. And Fish Fight wasn't promoting a campaign group, it was an independently produced examination of the subject which got its message out.  If there was a problem with dealing with such issues, shouldn't the BBC be looking at Watchdog and other consumer journalism? Feel free to browse the BBC's editorial guidelines to see how you interpret them, and how they apply to series such as Fish Fight.
Ralph Lee had cleverly assembled a reel of C4 clips – from a live show from the Space Race, the drama Utopia, and a Kevin McLoud design series – to demonstrate how environmental questions could be covered in other programme forms, not just documentaries about the natural world. The BBC's science and natural history commissioner Tom McDonald also reeled out plenty of examples. 
But this didn't satisfy the audience, or me. The state of the planet is too grim, and climate change too grave an issue, for it to be just 'smuggled into' programmes. It really needs creative thinking and leadership from the top. Tony Hall of the BBC has brought about a change in the BBC to be an Arts broadcaster, and a Diverse broadcaster. And backed it up with money and resources. How about allocating similar funds and managerial will to making the BBC actively cover climate change and its effects? This BBC Trust report from 2011 on BBC's Science coverage still seems to stymie debate in the BBC about the coverage of climate change issues – but it can't be allowed to. TV has a bigger  responsibility than that.
Joe Smith and Kim from the Open University, with the filmmaker Jeremy Bristow behind the camera, interviewed me for a research project about the coverage of environmental issues in broadcast media. A great subject, and it made me think hard about the responsibility of people with such powerful tools as cameras, TV channels and other platforms at their disposal – and often with money from the public.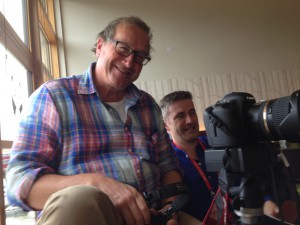 The channel I'm now working for, SBS, has done a series looking at the origin of the seafood Australians eat, called What's the Catch? – starting on Thursday 30th October.  I'd like to see more campaigns and awareness-raising on the channel, and know I'm going to be asking myself with the same questions on the best way to get people to engage.  It can't be beyond us to work it out, can it?
Please comment on this, or email me. Thanks for reading!