I spent three days in Rome last week at the DocFactual Agora organised by Gioia Avvantaggiato and Bettina Hatami of distributor/producer GA&A, and organising supremo Valentina Brero. I produced a couple of sessions, one of which I moderated – on the way in which factual television covered social themes.  Benefits Street got an outing, along with plenty of other UK examples. The other one was on front-of-camera talent, elegantly moderated by Corentin Glutron of French channel RMC Decouvertes. That's him on the far left.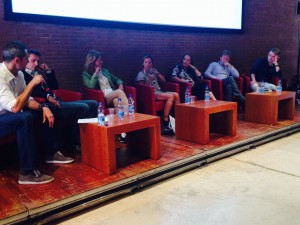 The event was part of the Roma Fiction Fest, in the beautiful setting of the Parco della Musica.
I can't say that I recognised any of the TV stars attending, but I did meet a Zombie from the series Walking Dead
There was a lot of talk of Reality TV and casting, and tons of examples from US cable, which gave the conference a very modern feel. It was great to have broadcasters and producers on the same stage, in a country where they are often very far apart. The discussion of television, audiences, production and distribution was informal and insightful. I sometimes felt swamped by the entertainment-driven US style, and wondered if I actually wanted to produce TV with values like that. Italy has a huge amount of commercial TV, and maybe it needs more public service programmes than yet more commercial fare.
But overall it was a good event, with a good crowd, and the positive response meant that I'm sure it'll happen again next year.